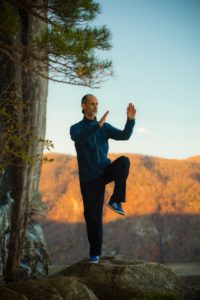 At the Empower Life Center we offer a variety of classes in the Oriental healing arts including weekly Tai Chi and Qigong classes, Saturday seminars, Free lectures, specialty workshops, Certification courses and Continuing education classes. Learn the Taoist energy arts under the direct guidance of 20th generation Master Instructor, Lao Shi, Camilo Sanchez, L. Ac, MAOM.
In addition to being a recognized teacher of Tai Chi, Qigong and Chinese medicine, Lao Shi, Camilo Sanchez is also an experienced,  licensed acupuncturist and has a Masters degree in Chinese Medicine.  His exceptional knowledge and sensitivity of energy flow in the body is seen in each and every class.  This results in superior learning for his students, who not only know movement and choreography, but also understand the principles of authentic Chinese internal arts.
Whether you are already familiar with Tai Chi, Qigong or the Taoist energy arts, or you are a beginner, we have a class for you at Empower Life Center.  It is our hope to share our love of Tai Chi, Qigong and Oriental medicine with all that are interested.   We believe these disciplines can become part of a healthy lifestyle and assist in leading people to a balanced and joyful life.
Please, browse through the classes menu, find a class that is right for you, and join us.  If you need help in determining the class that is appropriate for your skill level, please contact us by phone at 704-542-8088 or by email at info@empowerlifecenter.com.  We are always happy to help.